<!-ShowPage(index.html)->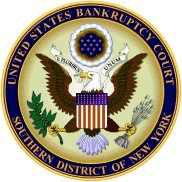 Welcome to the U.S. Bankruptcy Court for the Southern District of New York
<!-ShowPage(OperationNotice.htm)->
---
Phone Upgrade in Bowling Green Courthouse
A new phone system has been installed in the Bowling Green courthouse. Please be aware that all the extensions have changed. The main line (212) 668-2870, as well as all chambers lines have remained the same. To search by name (last name first) please call the main line and dial 1. If you have any difficulty in reaching your intended court employee you can dial 3 to reach our customer service desk.
---
Important Notice Regarding Time Period Changes Effective December 1, 2009, Including 14-Day Deadlines for Filing Schedules, Statements, Chapter 13 Plans, and Bankruptcy Appellate Briefs
Among the time computation amendments to the Federal Rules of Bankruptcy Procedure that will take effect on December 1, 2009, are changes to 12 rules that will result in a reduction by one day (from 15 to 14 days) of the time to take action. The affected rules are Bankruptcy Rules 1007, 1019, 1020, 2015, 2015.1, 2016, 3015, 4001, 4002, 6004, 6007, and 8009. Please take note of these changes and particularly of the new 14-day deadline for filing schedules, statements, and other documents under Rule 1007(c); for filing a chapter 13 plan under Rule 3015(b); and for filing appellate briefs under Rule 8009(a).
Please check http://www.nysb.uscourts.gov for conforming changes to our Local Rules, General Orders and Guidelines.
---
7June2012
Court Information