<!-ShowPage(index.html)->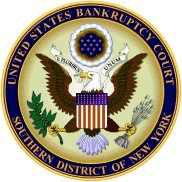 Welcome to the U.S. Bankruptcy Court for the Southern District of New York
<!-ShowPage(OperationNotice.htm)->
Due to necessary maintenance, CM/ECF will be unavailable on Monday, November 30, 2015 from 4:00 PM until 12:00 AM, December 1, 2015. We apologize for this inconvenience.
---
BANKRUPTCY FORM CHANGES EFFECTIVE TUESDAY, DECEMBER 1, 2015

Most Official Bankruptcy Forms are scheduled to be replaced with substantially revised, reformatted, and renumbered versions effective December 1, 2015. Revised forms and related information may be found here. Attorneys should contact their software vendors for further information and setup instructions.


---
7June2012
Court Information